Embed slot games into your website for free!
Are you a webmaster who is interested in making your website or blog more popular with the help of gambling content? Free-Slots.Games is not a commercial website. The mission of our website is to make gambling more popular in a manner that is both comfortable and safe. This is the reason why we present you with an opportunity to embed our games into your website without having to pay anything. Any webmaster or blogger can choose any of our video slots or games, and embed them into their own website.
Our staff is constantly working on making sure that the process of embedding games from Free-Slots.Games is as easy as possible. In order to use our content, you won't have to have any specialized skills or knowledge. The process of embedding a game into your website is literally done in a couple of clicks. Below we will provide you with a detailed guide on how to embed games in order to ensure that you won't run into any problems.
How to embed a game?
All games on Free-Slots.Games are posted using a convenient classification system. You can filter and organize the video slots based on their manufacturer, genre, theme, date of publication, rating, and other criteria. Once you've chosen a game that you would like to embed into your website, you simply have to follow these steps:
1. Find the "Embed This Game" button located to the right of the emulator
2. Once you click on this button, the embedding code will be copied to clipboard.
3. If you did everything correctly, "Code copied to clipboard" will be written on the button.
4. Use this code to embed the game into your website.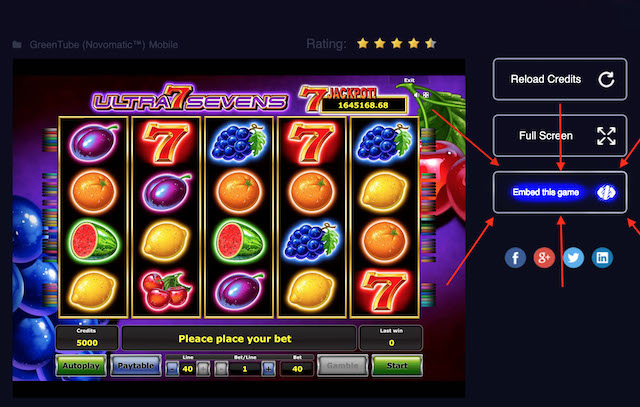 Are you worried that the users of your website will encounter obnoxious ads and leave, never to be seen again? You will never have to worry about this problem when using our games. We do not use banner ads, videos, or other elements that are distracting and annoying. All our games are embedded without any ads and allow for the users to fully enjoy their gambling experience.
Embedding games from Free-Slots.Games on your website is a surefire way to greatly boost your website's traffic for no charge at all. This is an easy method that allows you to attract users who are interested in gambling. Choose any video slots that you like, embed them into your website, and rest assured that they will work to increase the popularity of your website or blog 24/7.